The Sun and Earth are conspiring right now to offer a free light show to those of us lucky enough to live near enough to the magnetic north pole. Called aurora, these shimmers of green, or sometimes red light are caused by charged particles interacting with air in the upper atmosphere. Most auroras happen between 80 and 160 km above the Earth, but some have been seen at heights of 1000 km.
The source of the charged particles can be the Sun – sometimes in the form of a coronal mass ejection (a CME). These are massive bursts of solar wind – the regular steady stream of charged particles that escape from the Sun all the time. CMEs happen about 3 times a day during the solar maximums, but only about once every 5 days during solar minimums. We are currently in a time of increasing solar activity – but the maximum, predicted for 2013, does not look like it will be very strong. If a CME is directed towards the Earth it can disrupt radios, damage satellites or overload electrical transmission lines. It can also give really spectacular aurora!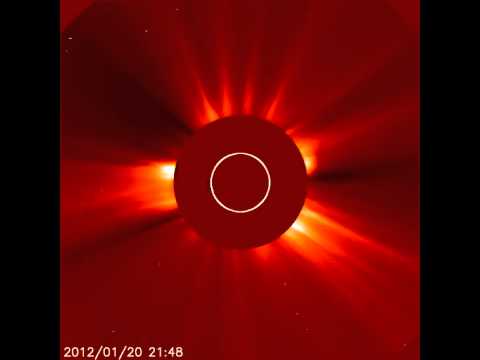 From Cork we are bit too far south to see really great aurora, but more northern parts of Ireland have reported some aurora sightings. There is an auroral map on spaceweather.com – use that to see what the chances are of a decent display any night. For a more detailed description of your chance of seeing an aurora, check NOAA / Space Weather Prediction Center.